Wind – Briggs Marine acquires its first crew transfer vessel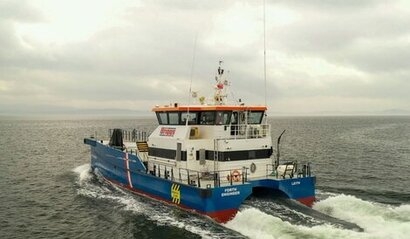 This addition to the fleet allows Briggs Marine to expand its mandate in the renewable energy sector and to offer another specialized service option for offshore wind farms.
The FCS 2610, one of Damen's best-selling models, has proven its excellent safety and performance in the harsh waters of the North Sea, as well as in the Middle East and other places around the world. A catamaran design with a Twin Ax bow, it is designed to carry up to 12 people plus crew, as well as equipment and light cargo, at speeds of over 24 knots.
"Safety is of paramount importance in crew transfer operations, and Briggs Marine is committed to ensuring that the highest standards are met to protect the safety of the crew as they perform their vital work. by supporting the renewable energy sector, "said Collieson Briggs MBE, general manager of Briggs Marine. "Offshore wind farms rely on experienced operators to keep them running and it is therefore essential that crew transfer operations are managed by experts with an impeccable health and safety record, as well as a unparalleled knowledge of the harsh operating environment – the North Sea. The acquisition of Forth Engineer allows us to continue to provide exceptional service to the renewable energy sector and to extend our services to specialized offshore wind farms, where the support of qualified experts is essential to their operations. We already have unparalleled experience through 50 years of operating our fleet of work boats, and we work in adjacent markets such as the provision of pilot boat services for peeling ports, crew transfer for petroleum installations commissioned and decommissioned as well as ferries for public staff and customers. "
For more information :