Wes Anderson's Valentine's Day at the New Yorker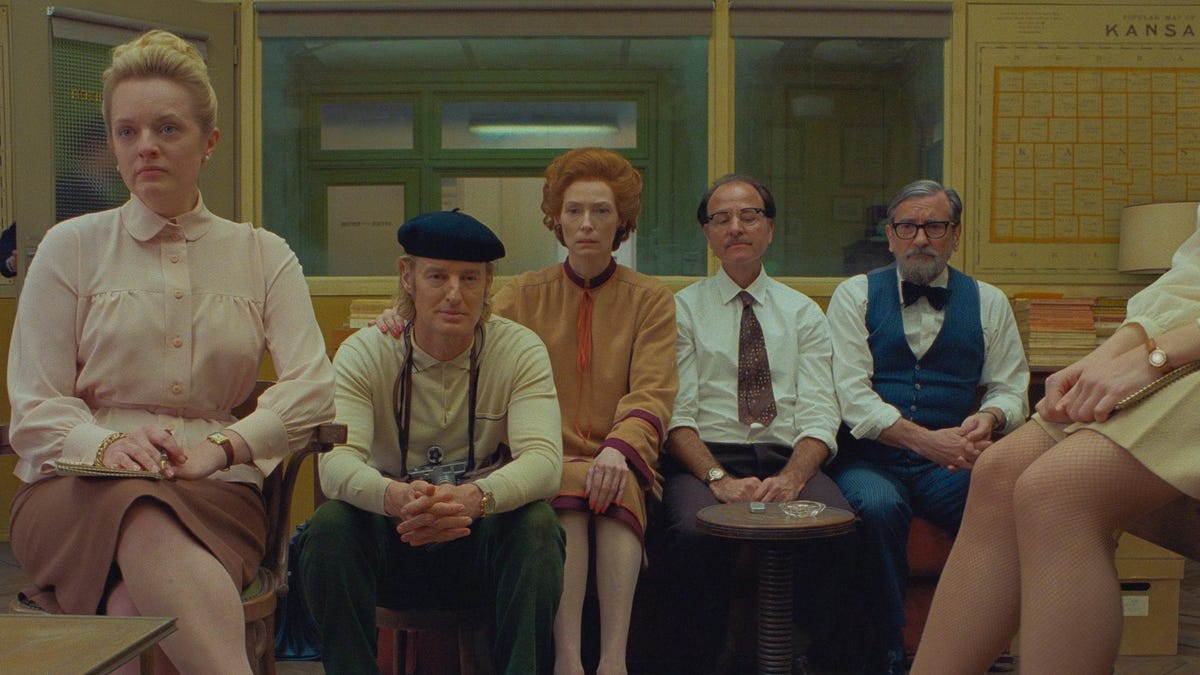 It should come as no surprise that Wes Anderson is an avid reader and avid reader of The New Yorker. They share a sensitivity, don't they? Call it an appreciation for the good things, coupled with a neat and pleasant sense of organization. Anderson, a director of live action films with the visual imagination of cartoons and cartoons with the deep neurosis of live action, has such a unique style that he can be identified from just one image taken from the reels of celluloid on which he always shoots. Still, there is a antecedent to his beloved approach, and a great influence has to be the legendary periodical he allegedly consumed religiously in college, from which he could have derived a sense of humor that was both refined and playful, an affinity for symmetries. and pastels, and a voracious appetite for literary pleasures. Was Wes Anderson an airline, The New Yorker would be his on-board magazine.
The French Freedom Expedition, Kansas Evening Sun, now referred to by the first three words of its title, is Anderson's love letter to that 96-year culmination of letterboxes and waiting rooms – and by extension, almost century of art, of writing and reporting it contains. The publication was lightly fictionalized as the overseas satellite outpost of an American newspaper – a team of correspondents based in the invented French town of Ennui-sur-Blasé. Their fearless leader, guiding and "pampering" their idiosyncrasies, is Arthur Howitzer Jr. (Bill Murray), a benevolent crank clearly modeled on The New Yorkerfirst editor of.
The Royal Tenenbaums, still Anderson's tragicomic masterpiece, is presented as a novel unfolding chapter by chapter. The French dispatch also adopts the structure of an issue of its eponymous magazine, recounting three documentary reports from its final edition. In "The Concrete Masterpiece", Benicio Del Toro plays an imprisoned artist, captivated by a guard (Léa Seydoux) whom he paints in an abstract way bare, whose record does not prevent the buying frenzy initiated by his joker dealer (Adrien Brody). "Revisions To A Manifesto" is Anderson's tribute to the French student protests of May 1968, with Timothée Chalamet and Lyna Khoudri as idealistic teenagers who fall in love even as they drift into different factions of the movement. And "The police commissioner's private dining room" follows a story of human interest shifted to the culinary concerns of a commander of the police (Mathieu Amalric) as it explodes in a hostage-taking.
The anthology format suits Anderson as well as a Lamb. Working with a giant ensemble of old and new collaborators, he embarks on an exaggeratedly exaggerated satire of the art world, pivots on a prolonged homage to the French New Wave, and finally indulges in one of his mad pursuits. (located, as is often the case, case, in the last section). The storytelling is as paramount – and often as dizzyingly entertaining – as the stories themselves. Building on the nesting dolls games of The Grand Hotel Budapest, Anderson goes back and forth between the tales and their authors telling them, on stage at a conference or in a Dick Cavett talk show. It nests frames within frames.
This sophisticated structural bet centers the point of view of intrepid reporters, raising questions about how to contain the uncontrollable, to condense all the nuances of real life into a digestible form. You might even call it Anderson's meditation on his own career-long attempts to impose meticulous order on life without totally denying his inherent disorder. Budding journalists have already been taught, at a time before narcissistic memories hijacked the media landscape, that they are not history. But Anderson counts in The French dispatch to what extent the great reporters imprint themselves in their work without explicitly signing up for it.
That each of the writers, respectively played by Tilda Swinton, Frances McDormand and Jeffrey Wright, be based on an alum from New YorkerThe historic contributor pool reflects the specific and sheer depth of Anderson's tribute. (Wright was chosen as a proxy for the most famous of these true wordmakers; his character, playfully endowed with "typographical memory," is a James Baldwin lookalike.) The French dispatchthe touchstone library would require multiple viewings and possibly a bibliography; he always nods at a luminary in that field or that, each person on the screen a caricature of a famous character on the promenade. Footnotes would appear with the names of art dealer Joseph Duveen, filmmaker Jean Renoir, former student leader Daniel Cohn-Bendit, mononymous French singer Christophe, Belgian cartoonist Hergé and many more.
At this point in his career, Anderson operates with a level of dioramic detail, set density, and compositional precision that his Bush League contenders and YouTube parodists could never hope to match. Every shot here is an event, a matchless punchline, a work of art, or all three. In addition to the trio of thumbnails, the film includes a travel story segment from the magazine's "cyclist reporter" (Owen Wilson) that functions as a city preview of the magazine's operations, and it's a masterpiece. miniature montage that clarifies Anderson as a parent to the spirit of the late French undisputed comic framing expert, Jacques Tati. More than just a head-spinning joke machine, this "Goings On About Town" cutscene traverses all of French culture through an alternate universe filter, adding a Gallic Everyburg to the growing atlas of storytelling locations in Wes World. (It should be remembered that Anderson now lives in Paris; every new film by him is a sort of French dispatch.)
Remarkably, he always adds new tricks to his bottomless bag, including an intentional alternation between color and black and white. Many of his more extravagant flourishes here seem to respond to the feature film expression of the draft New Yorker fandom. Scenes of shaking paintings, casts frozen in place and sometimes visibly struggling to maintain their position, parallel to seven decades of still photography, while also functioning as another devious microcosm of Anderson's entire modus operandi: the way whose imperfect humanity crucially slips into its perfect arrangements. . A late animated interlude is created in a style reminiscent of both French comics and a comic book story on and between the covers of The New Yorker. The subtitles, which eccentrically populate from bottom to top, contain parentheses – a textual homage to declining asides that contribute both to a vintage Wes effort and a classic page-turn of the pages of this weekly magazine. Even the edition feels simpatico with The New Yorker's famous precise use of comma.
The challenge of the anthology format is to get an audience to invest in characters who, out of necessity, have to be painted with quick brushstrokes. The French dispatch takes place at editing speed; There is little room for the full elaboration of Max Fischer that even a quick 90 minutes can facilitate. Yet Anderson generously seasons every story with disarming moments. We sneak up on you with an unexpected victim, a bright future cut short. Another slaps a surprisingly deep encounter at the end; there's a delight in the way that even the storyteller isn't convinced he belongs, while the publisher thinks that's the whole emotional hub of the play. And while "The Concrete Masterpiece" is arguably the funniest of these standalone episodes, it also contains one of the most poignant gestures: Budapest star Tony Revolori handing a brush to Del Toro, literally passing the baton from youth to old age, bridging decades of incarceration in one fell swoop.
The key to The French dispatchThe sly resonance of, nestled in the spaces between its moving parts, is Anderson's balancing act between reverence and irreverence. He sees humor in artistic pretension – in the seriousness of tortured artists and rebellious youth. But he also believes in their belief systems, or at least their ability to believe in something so passionately. If he mocks the subjects of every imaginary profile, it is fundamentally affectionate mockery.
Melancholy has always been on the verge of her comedies, thwarting attempts by detractors to reduce her work to an empty, precious and ever-expanding dollhouse of strictly cosmetic concerns. It is no coincidence that we are seeing the latest issue of this titular publication. This speaks to the inherently complimentary nature of this particular film, and of Anderson's recent work in general. Here he bids farewell to a bygone era of appreciation for the arts and writes a Valentine's Day not only to the New Yorker contributors who have awakened his imagination but also to a profession subjected to recent and persistent attacks.
The French dispatch will speak, of course, to any contemporary cog in this debased system – any writer who has seen his beats or word count diminish, or his employers diminish the appeal of subjects more esoteric than the lowest denominator common. But speaking of demographics, that of this film goes much further than the mere body of the press which works to wrap its collective head around a typical litany of visual and conceptual complexities. It should be Noted here that the real Liberty, Kansas, has a population just north of triple digits. Moving a stronghold of cosmopolitan sophistication to a point on the map is a joke with tanks of deeper meaning. The New Yorker, as founder Harold Ross once said, may not be "edited for the old lady of Dubuque". But he can speak to him anyway, as an American publication relevant to thinkers and aficionados residing far beyond the metropolis for which he was appointed. Perhaps the same could be said of Anderson's production.