Tattoo Festival returns to the depot | New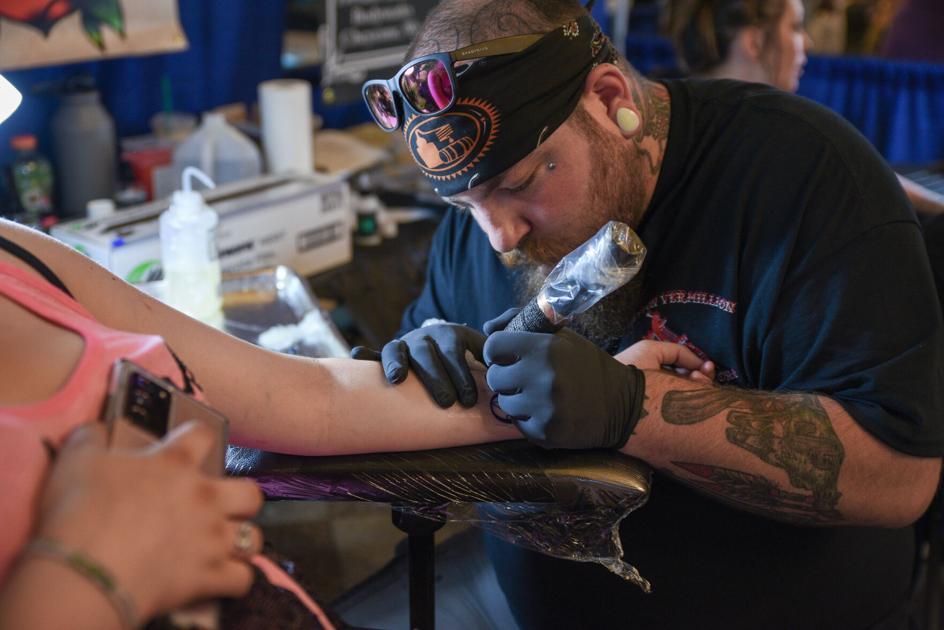 Downtown Cheyenne came alive with urban art and culture July 15-18 at the 4-Ever West Tattoo and Paint Slingers Festival.
The big event was the collaboration of the tattoo store TRIBE Zoo, the Paint Slingers and the West Edge Collective.
The 5th annual festival was different and bigger than in previous years. After being canceled due to COVID-19 in 2020, The Paint Slingers and Trinidad Serrano, owner of The TRIBE Zoo tattoo and piercing store, have teamed up with the West Edge Collective and produced widespread graffiti downtown.
The contest is an brainchild of Serrano and Chris J'tot, owner of Phantom 8 Tattoo in Englewood, Colorado.
"After becoming frustrated with the tattoo contest shows, where producers put artists through rigorous testing, we decided to take this into our own hands and come up with our own rigorous testing which sort of broke the rules," said J'tot. "It's a fun way for artists, human paintings and viewers to have a good time."
This year, with the lifting of COVID restrictions, they decided to continue the collaboration. West Edge helped secure sponsorships and grants for the Paint Slingers, Vendors, and the free Saturday night concert. Serrano has done what he does best, hosting a tattoo festival with top experienced artists from six different states.
Half of the festival took place at the historical depot and at the square. Inside the depot, attendees found 40 tattoo artists outside the Tattoo Rodeo.
The plaza had a large auto show, vendors, food trucks, and the Wyoming State Arm Wrestling Championships. Other competitions included best pinup, beard and mustache, and various categories of tattoos. Live music was provided by Galactic Lemonz on Saturday after the rain cooled things off.
The West Edge Collective side of the festival had glassblowers, acrobats, and a skateboard competition.
The main attraction on Saturday night was a free concert with Grammy-winning old-school rap artist Coolio with special guests Rob Base, Affiliation and PocketBook Prophet.
Serrano, a tattoo artist for 20 years, has owned The TRIBE Zoo tattoo and piercing store for 14 years, and after traveling across the country he has seen tattoo exhibitions in almost every town.
"I thought it would be something cool to put here in Cheyenne, and I thought it would be something Wyoming would appreciate," he said.
When he started planning it, he realized that there was no law in place that would allow him to host a festival with live tattoos.
Serrano went to council and changed the laws. He went to other exhibitions, took pictures, made a business plan, and presented it to Cheyenne City Council. They voted to create a temporary tattoo licensing law so that its event could take place.
The Tattoo Rodeo, added in 2018, features a "Barrell Race", a timed tattoo race. Artists are penalized for going out of line or for inconsistencies in color and design. With "Off-Hand", artists use their non-dominated hand to create a tattoo. A fan favorite, "8 Seconds On", the artists stare at the canvas for 8 seconds and are blindfolded for 30 seconds while applying ink to the skin.
Cheyenne resident Kerri Pestana has attended the festival every year since its inception.
"I love that there is an event for alternative culture," she said. "It's not all about the rodeo and the Wild West. These are still valid concepts, but people change collectively, and generations don't necessarily identify with that, and it's refreshing. I think Cheyenne has been waiting for something like this for a long time. "