Police are trying to identify the thief who stole an old man's wallet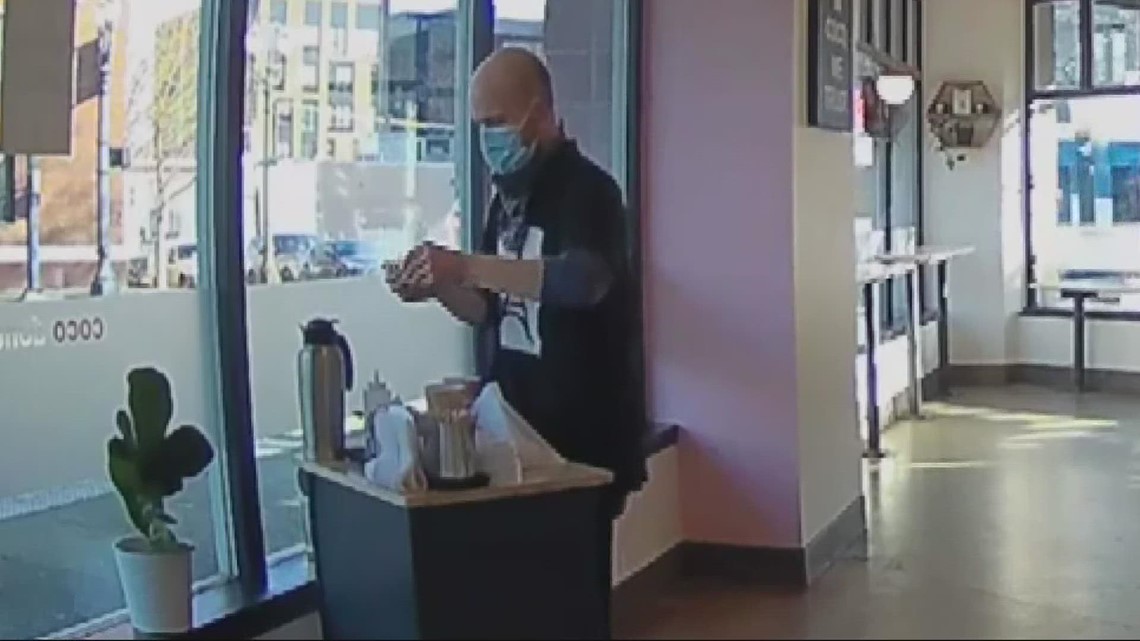 The victim's wallet contained $1,000 from the Social Security check he had just cashed.
PORTLAND, Ore. — Portland police are trying to identify the person caught robbing a 93-year-old man.
It happened on the morning of January 25, outside the American Bank Stadium branch near 18th Avenue Southwest and Yamhill Street.
Security cameras showed the suspect following the victim, Stan Baumhofer, 93, who had just left the bank. Baumhofer was using a walker when the suspect came up from behind, pulled Baumhofer's wallet out of his back pocket, and drove off. Baumhofer turned around, stunned.
"Obviously I was unable to defend myself or chase or do anything against a pickpocket," Baumhofer said. "I yelled at him and called the police and they were there within 3 minutes."
Police say the suspect walked a few blocks before diving into Coco Donuts on Southwest 17th and Morrison. Inside the store, security footage showed the suspect rummaging through his bags before buying a coffee and donut.
RELATED: Your Questions About Portland's Record Gun Violence Answered
If he used money from Baumhofer's wallet, he definitely had change to spare.
"There was $1,000 in that wallet that he took," Baumhofer said. "It would be nice to get that back because my only income is social security."
The suspect is described as a white male in his thirties, 5ft 8in tall, bald with short, shaved hair. He wore a black jacket, black jeans and a black t-shirt with a picture of the Eiffel Tower on it. He also wore black shoes with white soles and a black hat.
Baumhofer hopes someone will recognize the suspect and come forward. He also offered some advice to the suspect.
"Get a job and don't steal," he said. "Especially from helpless old people."
Anyone with information is asked to call the Portland Police Department and reference case 22-23102.
RELATED: Portland Pickles Mascot Costume Disappeared After Porch Robbery