Monday, July 11, 2022, San Diego Metro Magazine
UC San Diego receives $100 million in
state funding for new student accommodation
By Leslie Sepuka
UC San Diego received $100 million in state funding for the Pepper Canyon West Living and Learning Neighborhood, which will provide more than 1,300 single-occupancy rooms to transfer undergraduate and upper-division students during from its opening in the fall of 2024. The funding is under a new state-established Higher Education Student Housing Subsidy Program, which provides one-time grants for projects to support the increase in California resident registrations.
Construction of the Pepper Canyon West Living and Learning District will begin this summer. The project is located inside campus, adjacent to the Central Campus station of the UC San Diego Blue Line light rail. The 580,500 square foot project includes two 22- and 23-story towers connected to five-story buildings with outdoor patios as well as retail, dining and open space in two large courtyards and access to canyon trails.
Top photo: Construction of the Pepper Canyon West living and learning neighborhood will begin this summer, with an aim to open in fall 2024. (Copyright: Perkins & Will Architects)
Read more…
San Diego Airport Terminal 1 Redesign
FAA assistance – $24 million
San Diego International Airport, well into the construction of a new multibillion-dollar Terminal 1, learned last week that it would receive a small additional federal government grant worth $24 million. dollars.
Thanks to the $1 trillion infrastructure bill signed into law last November by President Biden, dozens of airports across the country are receiving financial assistance to improve their terminals. The projects promise not only to increase airport capacity, but also to increase energy efficiency and provide greater accessibility for people with disabilities.
Read more…
Simplicity Group buys San Diego
LifePro Financial Services
Simplicity Group has reached an agreement to acquire LifePro Financial Services, a San Diego-based financial products distribution company serving independent financial professionals across the country with a range of financial planning, sales and marketing services . The agreement with LifePro marks the 39th acquisition for Simplicity. Heather Ulz, Ben Nevejans and the LifePro team will continue to manage the business with additional resources from the Simplicity Group.
"We have a long and successful relationship with Simplicity and are thrilled to join the group, work alongside a network of talented professionals and tap into their vast resources," said Heather Ulz. "Our shared values ​​and mutual respect – as people and as business partners – is what makes this partnership so exciting for the entire LifePro team."
Biocom California appoints Miguel Motta as vice president
of Operations and Head of San Diego Office
Biocom California, the association representing the California life sciences industry, announced the appointment of Miguel Motta as the organization's vice president of strategic operations and head of its San Diego regional office.
Motta is an international business professional with over 20 years of experience in the life sciences industry. Most recently, he served as President and CEO of IRP Health. He held leadership positions at Fortune 500 companies, including Monsanto, now Bayer Crop Sciences.
Motta has served as president, president, CEO, CFO or COO of growth-stage companies backed by venture capital. He has extensive experience in new product launches in both developed and emerging markets, mergers and acquisitions and capital formation. He brings a truly global perspective having led global organizations in Switzerland, Spain, the Netherlands, France, Japan, Mexico and the United States. Miguel received his MBA with honors from the Rotterdam School of Management in the Netherlands and his BS with honors from the Monterrey Institute of Technology and Higher Education.
MTS Receives $33.5 Million State Grant to
advancing major capital initiatives
The San Diego Metropolitan Transit System (MTS) has received critical funding to continue its transition to a zero-emissions fleet by 2040 and major improvement projects for the system. The California State Transportation Agency (CalSTA) announced the awarding of $33.5 million to MTS under its competitive grant, the Transit and Intercity Rail Capital Program (TIRCP). This TIRCP funding will advance key agency goals, including expanding the busiest downtown transit hub, improving light rail stations along the Orange Line, and implementing its zero-emission bus transition plan.
MTS improvement projects funded by the TIRCP grant include:
• The electrification of the MTS Imperial Avenue division which requires charging infrastructure for a full transition to a zero emissions fleet by 2040.
• The Orange Line Improvement Project, which includes widespread improvements along the corridor with upgrades to station passenger information panels.
• The 12th and Imperial Transit Center expansion project, which includes components of a mobility hub and expanding the footprint of the transit hub for increased capacity.
Grossmont College launches workforce drone program
Grossmont College will begin offering a free drone certification program to its students this fall. The program will help students progress in the workplace by learning how to use drones for a variety of applications, including defense, cinematography, and research. Training can be expensive. Instruction from a company or private institution and then certification from the Federal Aviation Administration can cost up to $10,000.
Read more…
Sharia's Closet receives $25,000 from Aetna
Aetna Better Health of California, a CVS Health Company, provided San Marcos-based Sharia's Closet with a $25,000 donation to help operate the One Safe Place Emergency Clothing Center in North County Family Justice Center in San Marcos.
The non-profit organization Sharia's Closet provides free clothing and hygiene products to individuals and families in need, including those affected by human trafficking and domestic violence.
Read more…
New augmented reality game debuts at Petco Park
Have you ever wondered what it would be like to stand in the batting box against Trevor Hoffman? A new augmented reality game, debuting this week at Petco Park, is giving fans the chance to do just that. Up to four people at a time can play the game located inside the Padres Hall of Fame using Motorola devices and smart glasses. It places players directly on the stadium field to hit moving targets while watching Hoffman, Tony Gwynn and other Padres legends. This is part of the team's unique new partnership with Motorola, which was announced earlier this year.
Augmented reality experiences have become widely available in recent years, allowing gamers to play some of their favorite games in real-world environments. They have been popularized by mobile apps such as "Pokémon GO" and "Harry Potter: Wizards Unite" as well as social media apps like Instagram and Snapchat.
Innovision Marketing Group Launches Hispanic Division
In its continued effort to become a national advertising agency, San Diego-based InnoVision Marketing Group has launched InnoVision Español, adding to its portfolio of in-house services that include digital media, traditional media, web development, design, public relations, film making and more.
InnoVision Español will serve businesses and brands wishing to reach the Hispanic community and Hispanic-oriented customers and businesses.
An important and valuable part of the entire country and San Diego County, InnoVision's Hispanic team is representative of this community, which represents a very large percentage of San Diego County.
Hispanic consumers remain an underserved demographic for many marketers. Given that the Hispanic population in the United States is 18.7% in 2020 and about 34% in San Diego, only 6% of the industry's overall investment goes to the Hispanic community, according to the Hispanic MarketingCouncil.
Wilson Turner Kosmo adds six lawyers
to its various practice groups
Wilson Turner Kosmo, one of the largest female-owned certified firms in California, continues to strengthen its team of qualified attorneys with the addition of Patrick Allen, Evan Critchlow, Kyle Fellenz, Ana Hartman, Susan Henderson and Mary Snyder to its business, employment product liability and warranty practice groups.
J. Patrick Allen
Allen, lead counsel in the firm's Employment and Class Actions practice groups, handles individual, class, and representative actions on behalf of employers in state and federal courts, as well as private arbitrations.
Evan J. Critchlow
By joining WTK's Product Liability and Warranty Groups, Critchlow will represent distributors, manufacturers and retailers for breach of warranty, product liability and fraud in state and federal courts.
Kyle A. Fellenz
A senior associate in the firm's Commercial Litigation, Product Liability and Warranty practice groups, Fellenz represents a wide range of clients in class action lawsuits and defends against product liability and warranty claims. guarantee.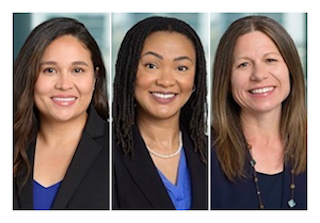 Ana R. Hartman
A senior attorney in WTK's Business Litigation and Labor Practice Groups, Hartman has extensive experience defending and advising national insurance companies, international shipping companies and securities brokerage firms on complex and varied legal issues.
Susan I. Henderson
A partner in the firm's Employment Law Practice Group, Henderson represents employers in all employment-related matters, including claims of wrongful termination, discrimination, harassment, retaliation, non-accommodation, and wage and hour disputes.
Mary P. Snyder
Joining the firm as a partner, Snyder brings more than 20 years of litigation experience to WTK's business immigration, class action and employment practice groups. She is a qualified attorney practicing in state and federal courts, administrative tribunals, and in arbitration and appellate proceedings.