Low stress New Years Eve activities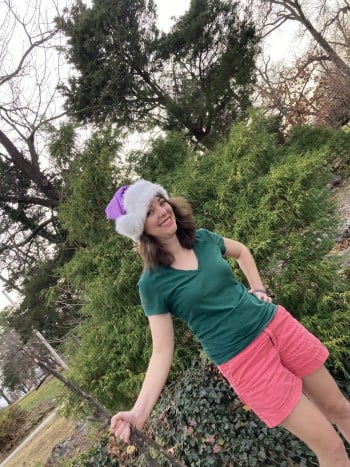 I keep seeing memes about how weird the week is between Christmas and New Years. I don't know what day it is, I don't know if we're supposed to be working etc. I just made a panicked call, worried I had missed a morning appointment that I assumed was Thursday, but what if it was Tuesday and I forgot to write it down ?! (It's Thursday. Phew!)
Regardless, our Christmas at home was very enjoyable, despite recovering from a cold and being sad that we didn't see a family. We played a new card game, had a pizza and movie night on Christmas Eve, opened some stockings, and even took a short and t-shirt walk in Woodward Park! Just because we could! I made pumpkin soup, honey cornbread, and sweet potato boats for a simple but tasty Christmas dinner.
So it's Christmas taken care of, but what about New Years ?! Last year I found myself tackling a last minute New Years Eve baking project. I'll share more below. Suffice it to say, it could have been a fun project, but the fun was rather lessened by the frantic race to bring it down. This year, it would be good to anticipate! So here are some ideas we could spend the New Year on:
1. Countdown cookies
It was my big project last year. If you're not baked in sugar after Christmas, here's another cookie baking and decorating opportunity. I just used a store-bought icing for the decoration. Simply cut out round sugar cookies and place the numbers 1 through 12 on them. Add a large hand and a small hand to two others. Arrange them in the shape of a clock and enjoy! You can move the hands to the middle for the countdown to midnight and just eat the midnight cookies with a glass of milk. Cupcakes would work too.
2. DIY Confetti Poppers
Last year, Discovery Lab hosted a New Years Confetti Popper Challenge, which Joss and I loved to participate in! To make your own confetti popper, watch their video below. You just need a roll of toilet paper, a balloon, decorating supplies, and confetti! Make your own confetti using crushed leaves or paper. This video is great because it explains some of the science behind the popper.
3. DIY noise makers
There are tons of ways to make your own noise makers. I like the idea of ​​a simple cardboard plate, folded in half, filled with beans and stapled / taped. Easy to make and fun to decorate! Here are some other ideas to try: howdoesshe.com/9-façons-faciles-de-faire-du-bruit-pour-la-nouvelle-année.
4. Remember the past year
2021 has been another difficult year for many. But there is no doubt that you also have good memories! If you are really planning ahead, why not print some of your digital photographs and do some scrapbooking? (I stole this idea from the TulsaKids 10 Ways to Celebrate New Years with Kids list.)
5. Look to the future
While you're at it, talk about some things you would like to do for the New Year. They don't have to be resolutions, just goals or dreams. Maybe you will be surprised by what your children have to offer!
While you are doing this, plan for the future by starting a jar of gratitude / fond memories! At the end of each week, each family member can write down something good that happened that week on a piece of paper and add it to the jar. Then you will all be ready to read a year of fond memories together on New Years Eve!
6. Do you rather gamble?
We don't plan on staying up until midnight, no way. But if you've got all those hours to fill, I like the idea of ​​making sure that the focus is on the conversation rather than something like a movie marathon. Not that I'm against it. A few summaries of New Year's activities suggested playing "Would you rather". You can play a New Years themed version (here is an example: thecraftingchicks.com/new-years-eve-would-you-rather-printable-game) or a more general version (thefamilydinnerproject.org/fun_content/would-you-rather). Of course, your kids might also like to ask their own questions! But it would definitely take your family conversation in directions it might never have taken before! ??
7. New Years STEM Activities
Keep your evening entertaining and educational with these New Years STEM activities: littlebinsforlittlehands.com/new-years-eve-stem-activities. The DIY Confetti Popper makes the list, but there are a few cool suggestions for making your own New Year's Eve ball – and a tower to drop it from. We tried the Fireworks in a jar activity. So beautiful!
It is after the end of the experiment. Check out our Instagram reel to see how it works!
8. Take a hike
The weather is getting colder this weekend, but getting out of the house for a family walk can still be a good activity. We really enjoyed our leisurely 'hike' around Woodward Park. Well, it was more like Joss wanted to dig in the dirt and I pulled him out every now and then. There was even a charming clarinetist who serenaded picnickers and walkers. Turkey Mountain is having a New Years Day scavenger hunt which sounds like fun. But Chandler Park, Ray Harral Nature Center, River Parks… any of your favorite hiking spots would do. Plus, the Christmas lights will go out soon, so this might be your last chance to see all the beautiful sparkles!
Then, of course, there are the classic activities like Family Game or Movie Night. Find suggestions at tulsakids.com/10-ways-to-celebrate-new-year-eve-with-kids. And, for some out of the house ideas, check out tulsakids.com/ways-to-celebrate-the-new-year-in-tulsa. I didn't find a lot of New Years specific events in town. Favorites like Discovery Lab's Midday New Years Eve party won't be happening this year, but if anything does come up, I'll add it to the list!
How do you celebrate the new year?
---