Laos accuses Senate committee of hostility as senators grill it over candidate for deputy ombudsman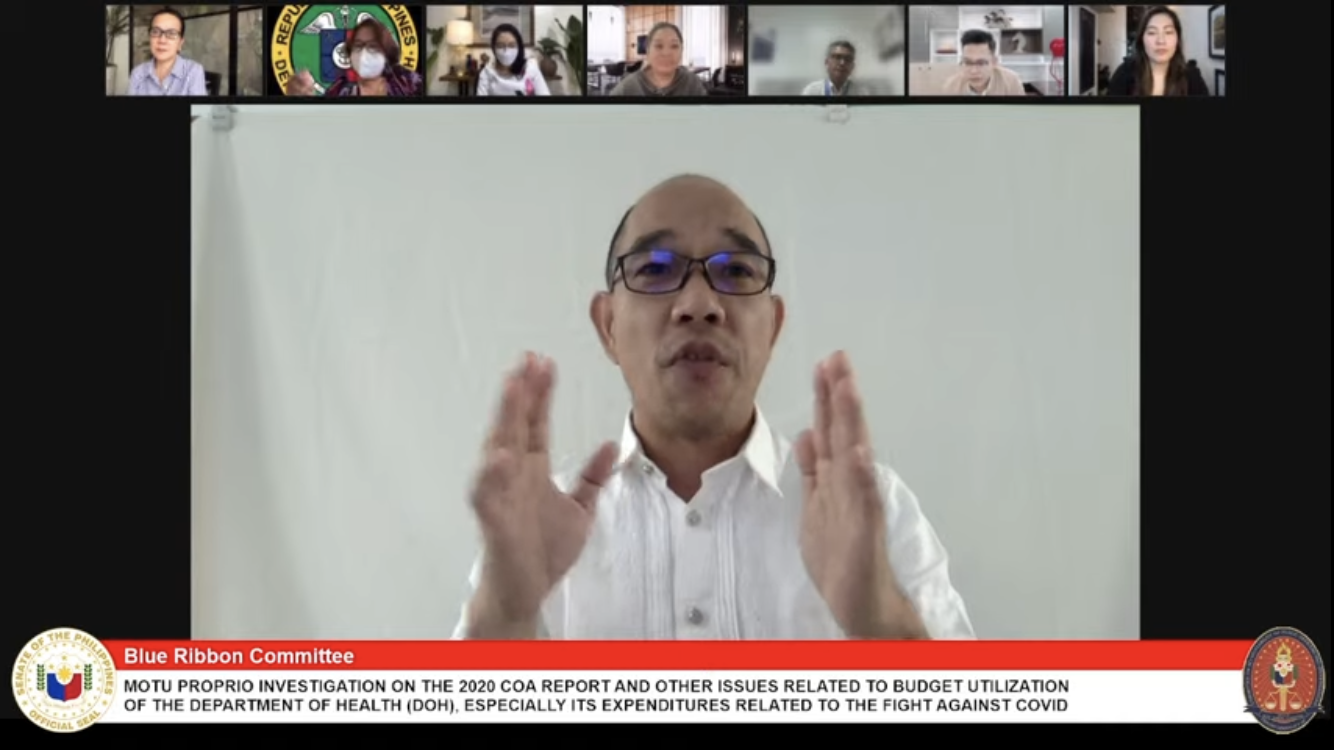 [ad_1]
Former Under Secretary for Budget and Management Christopher Lloyd Lao on Tuesday accused the Senate Blue Ribbon Committee of being hostile as lawmakers grilled him over his previous candidacy for deputy general mediator .
During the panel's continued investigation into allegedly overpriced COVID-19 supplies, Senator Richard Gordon asked Lao to inform the panel of the reasons for his withdrawal from one of the key positions in the ombudsman's office.
In response, Lao told senators there were statements made by some politicians criticizing him over his candidacy.
"I think an issue was raised in a newspaper and I don't really like these topics… I think it was a statement by several politicians against me," he said.
Gordon urged Lao to name the politician who issued the statement. However, Lao said it was not in his "nature" to drop the name of the politician who had criticized him.
"I don't care if it's in your nature, it is in the nature of justice to find the truth… Hindi kita binubully sagutin mo lang ang tanong (I'm not intimidating you, just answer the question). You are evasive again, sasabihin mo binubully kita, "Gordon told Lao.
At this point, Lao said the Senate was hostile if it found the resource person's responses unsatisfactory.
"I think the situation in Senate inquiries is hostile when the proposed responses are unsatisfactory," Lao said.
It didn't go well with Gordon, reminding Lao that it is he who does not answer questions posed by the body.
"You don't want to answer, [now] we are hostile? Gordon asked.
Still, Lao insisted on not disclosing the politician's name.
"I am giving you an answer… This is my answer. I refuse to give names… That's not it [the questions] makes me uncomfortable. You make me mention names, which I don't want to do because I believe the names of people who are not part of me should be kept private, "Lao said.
"If they want to express their point of view and say that they are the ones who said it, then do it. But kung ako sabihin mo 'a hindi, si ganito, si ganyan.' I am not that kind of person who does not hesitate to withdraw into a kasi magulo application… to apply overwhelming tapos and innuendos, "he added.
Gordon then told Lao that these kinds of questions are "legitimate" and even at the Nominations Commission, these questions are part of the appointee's scrutiny.
Senate President Vicente Sotto III, Chairman of the Board, said all candidates were under investigation by the commission.
"This is the 18th Congress of the senator, napakababait. 'Yung mga kamo'y pinuputol' yung sagot, 'yung mga whatever, ganyan, wala, sweet na sweet' yan (Senators who are part of the 18th Congress are very nice. If you say they interrupt while you are to answer, it is very soft compared to the senators of the preceding congresses), declared Sotto.
Senatorial Minority Leader Franklin Drilon confirmed Sotto's statement.
Again, Gordon asked Lao to disclose details of the matter he dealt with when he withdrew his request to the Ombudsman's Office.
"I answered it, Mr. Chairman, but I don't want to name names. You have to respect that, "Lao replied.
Gordon has said he will leave the issue as it is, as Laos does not "respect the Filipino people".
"You don't want to answer … This is my conclusion," said the senator.
As a reminder, Lao had previously applied for the post of deputy general ombudsman, but had withdrawn his candidacy to avoid "senseless" speculation.
Senator Leila de Lima previously released a statement, saying Laos' candidacy for deputy general mediator exudes possible collusion to cover up corruption under the Duterte administration.—AOL, GMA News
[ad_2]