Cleveland Magazine Announces New Management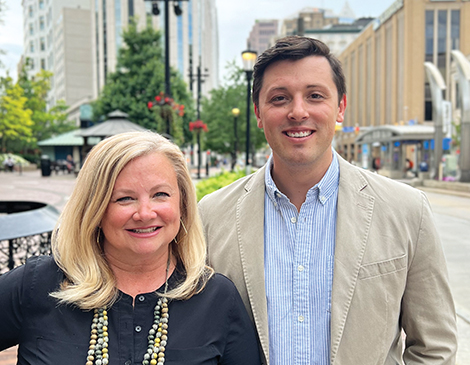 President Lute Harmon Jr. shares his thoughts on the promotions of Denise Polverine to publisher and Dillon Stewart to editor-in-chief of Cleveland Magazine.
We are happy to announce that starting with our next issue, there will be a new management team at Cleveland Magazine. Dillon Stewart will be the next editor and Denise Polverine has been elevated to the role of editor.
Dillon joined us as an intern in 2014 and most recently served as editor. He succeeds Colleen Smitek, who is stepping down due to changing family circumstances, but will remain on the team as a contributor.
Dillon launched his career as an associate editor at landscape management before joining the Cleveland Magazine in 2017. Since then, he has been a driving force behind the brand's increased presence on digital and social media. He also served as dining room editor.
Denise has extensive journalism and digital experience, having served as editor of cleveland.com for 17 years and director of digital strategy at WKYC for seven years.. She has the perfect experience to mentor Dillon and help him grow his editorial team.
This transition was slated to happen in a few years, but now it seems long overdue. Steve Jobs was known for hiring smart people and going out of his way. These promotions definitely fall into this category.
The growth of the magazine's digital media has made it clear that it will need a fully dedicated editor at the helm, and pairing Denise's experience with Dillon's knowledge of digital journalism was an obvious choice to continue that growth.
Also, I cannot thank Colleen enough for her leadership. She oversaw the redesign of our print publication and our 50th anniversary issue. No small feats. Her professionalism transformed our culture and I'm glad she's sticking around as a writer.
Although it is a little sad for me to step away from the role of editor, Cleveland Magazine means too much to our business, my family and – we hope – the community to put less effort into it 100%. I am convinced that Denise and Dillon are the right ones for the challenge.
I know they will be amazing.
Cleveland Magazine is looking for a talented writer to take on the role of Editor-in-Chief. If you are interested, please visit Great Lakes Publishing Career Page.