A NEW CULINARY CONCEPT CUTS THE RIBBON AT RIDGELAND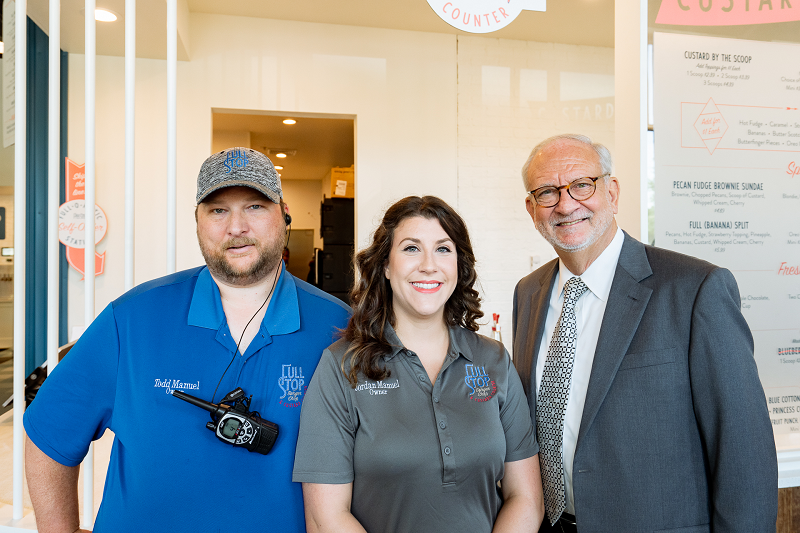 Full Stop Burger Shop & Custard Counter was joined by the Ridgeland Chamber of Commerce, Mayor Gene McGee and the Madison County Chamber of Commerce for its grand opening. Formerly Majestic Kitchen, the new brand blends modern style and nostalgic touches with a light and airy vibe, offering the burgers customers know and love as well as new classics.
Beyond the rebranding and interior, owner Todd Manuel set out to overhaul the way his restaurant does business. "Several months ago, we began the process of reinvesting in our business with the intention of improving the guest experience with our food, our dining room and our team," explains Manuel. "Our goal was to focus on what really makes us shine – our commitment to classic American cuisine, the betterment of our community, and the long-term personal success of every member of our team."
"Today is a big day for us," says owner Todd Manuel. "We offer all of our employees a decent salary, paid holidays and health insurance. "Live Life Full" is our motto and it is the vision of what we are trying to do here. It's not just about our customers, but also about our staff living their lives to the fullest.
After years in the restaurant industry, Manuel is saddened by the difficulties in which much of the industry finds itself. "So many people we've met are working 60+ hours a week at multiple jobs and barely getting by," he says. "They are beautiful people. Fun, loving, generous and kind people. Yet, due to the typical restaurant business model, they still don't have access to health care and can't miss work because they need money to survive.
Manuel recognizes its power to make a difference and its new brand will reflect the values ​​at the heart of the company. "We insist that the American Dream applies to everyone who chooses to work with us, regardless of their position within the restaurant," says Manuel. "Our goal is for 100% of our full-time workforce to earn a living wage, have health/dental insurance and paid time off when they need it most. We believe the restaurant industry we love can become a better place for everyone. and we are excited to be part of this change.